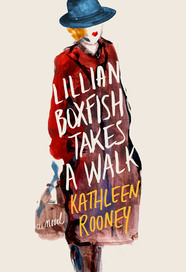 Buy Now:
AMAZON  |  BARNES & NOBLE  |  PUBLISHER
APPLE  |  INDIEBOUND  |  BAM
It's the last day of 1984, and 85-year-old Lillian Boxfish is about to take a walk.
As she traverses a grittier Manhattan, a city anxious after an attack by a still-at-large subway vigilante, she encounters bartenders, bodega clerks, chauffeurs, security guards, bohemians, criminals, children, parents, and parents-to-be—in surprising moments of generosity and grace. While she strolls, Lillian recalls a long and eventful life that included a brief reign as the highest-paid advertising woman in America—a career cut short by marriage, motherhood, divorce, and a breakdown.
A love letter to city life—however shiny or sleazy—Lillian Boxfish Takes a Walk by Kathleen Rooney paints a portrait of a remarkable woman across the canvas of a changing America: from the Jazz Age to the onset of the AIDS epidemic; the Great Depression to the birth of hip-hop.
"Easily the best gadding-around-town novel since Dawn Powell and Dorothy Parker."
– Daniel Handler, author of Why We Broke Up and We Are Pirates

"There is a little of Lillian Boxfish in all of us. And if there isn't, there ought to be."
– Julia Claiborne Johnson, author of Be Frank With Me
Also, available as of June 2017 in the UK from Daunt Books Publishing.
"Extraordinary . . . Rooney creates a glorious paean to a distant literary life and time." – Publishers Weekly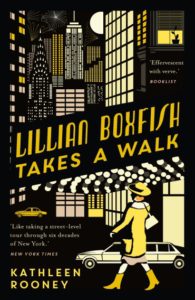 "A witty and heartfelt ode to a city, to its infinite variety, to its melting pot of citizens." – Boston Globe
"Vividly depicts an evolving New York City as well as the changing roles of women over the course of the 20th century." – BookPage
"Rooney's delectably theatrical fictionalization is laced with strands of tart poetry and emulates the dark sparkle of Dorothy Parker, Edna St. Vincent Millay, and Truman Capote. Effervescent with verve, wit, and heart, Rooney's nimble novel celebrates insouciance, creativity, chance, and valor."
―Booklist (starred review)
"Prescient and quick….A perfect fusing of subject and writer, idea and ideal."
―Chicago Tribune
Also available in paperback from Picador on April 3, 2018: